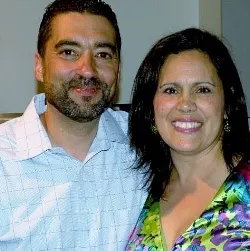 Rodger and I are native New Yorkers who moved to Kansas City, Missouri in 2007 without knowing exactly why. In 2009, we volunteered with a local anti-human trafficking organization and our why was answered. Our journey had begun! As of 2017, we have led around 200 outreaches to the streets and strip clubs of Kansas City.
It wasn't long before we recognized the need for immediate short-term housing for the exploited. We opened our home to women who needed a haven from trafficking and sexual exploitation and aided them in the application process of long-term housing.  We witnessed that the woman who feel the courage to turn from her trafficker needs something more than just a shelter if she was going to have a future filled with hope. We observed that the woman trapped in prostitution would need something more holistic to come to terms with her addictions.  Through our experiences, we have come to understand there is real fear, confusion, shame, and hopelessness that keeps a person captive to slavery.
Having walked through the healing and restoration process with many women over the years, we saw two things that were missing.
First, the need for an immediate crisis home to empower survivors to succeed. Second, job skill development for a successful future career.
Right now, we are working on the first need; housing, with plans to provide job skill training in the future.
Our hearts ache and yearn every time we meet women on the streets or in strip clubs who are ready for new beginnings, but the beauty is that we get to be part of these women's hopeful journeys.
The reality is that we can't do it alone.  It takes a community to empower a survivor to succeed. It takes people with a purpose to make a building truly feel like a home. It takes intentional individuals to provide resources and services for these women.
Become part of the community.  Join us in the fight to end human trafficking!
Sincerely,
Denise Lester
Founder and Executive Director